15 August 2022
Key Language Skills in the Workplace in Switzerland – by Dariia Vinnikova
Theory and Background Info
Have you also noticed for a long time that English seems to be more and more a part of our lives every day? Particularly at work. All the major corporations seem to be rushing to hire employees with intermediate or advanced English skills. But which English skills do I need to pay more attention to in order to get the job I want? And what are the benefits of speaking English in the workplace in Switzerland?
To answer the first question question, I'd just like to take a few minutes to reflect on Cambridge Report 2016 that suggests global analysis of language skills in the workplace. English is important for over 96% of employers in Switzerland (English at work report, Cambrige, 2016) including international organizations and English-speaking companies.
English language skills are divided into listening, reading, writing and speaking (spoken interaction and spoken production). Below I will provide statistics on which language skills are crucial in Switzerland according to employers.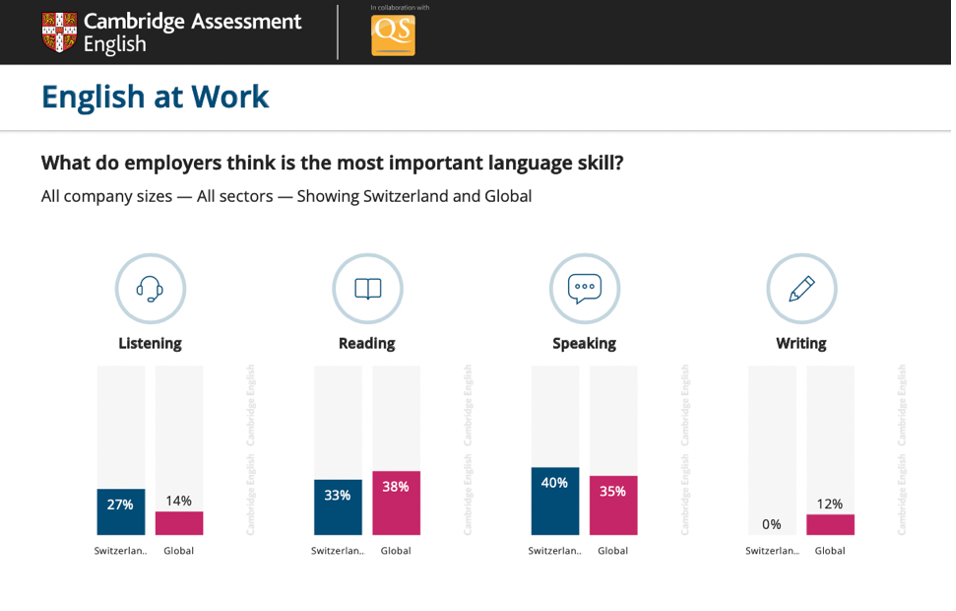 The importance of English also varies according to industry. Speaking is most important to employers in: • Travel, Leisure and Hospitality  •Transportation and Distribution • Recruitment and HR Services • Retail.
Reading is most important to employers in: • Electronics and High Technology • IT and Computer Services • Aerospace and Defence.
In regions where English is not a native or official language, there is a wide variety of English requirements: 7 % of job duties and responsibilities require native-level English, 49% require advanced English, 33% require intermediate English, and 8 percent require basic English. (See Table 2)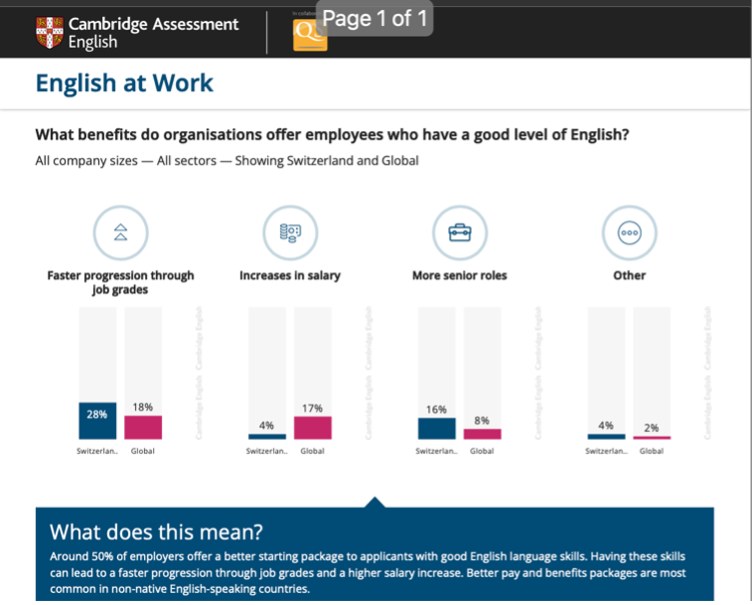 Regarding the second question: If you google "benefits of speaking English at workplace", then you'll find that practically every second article discusses either advantage over other candidates and networking, or career development and higher level of welfare. These are unquestionably positive advantages that English offers. But the aforementioned advantages are merely a result. Here, I want to draw your attention to the underlying cause by demonstrating WHY we obtain these "perks": English is inevitably present in our lives, if previously it was a foreign language (a useful but still external language for the sociolinguistic context of the country), today it occupies a different role – the lingua franca. As Christian Mair so aptly wrote:
As the global lingua franca, English is indispensable not only in transnational communication but increasingly also within the German-speaking countries themselves: in elite social domains such as academia and the economy, but also in non-elite domains ranging from pop culture, fashion and tourism to ELP communication with refugees and asylum seekers.
Being at the top of the worldwide hierarchy of languages, Standard English is the only language that has gained open prestige within the sociolinguistic hierarchy of the German-speaking counties, aside from German itself. Simply put, this is why any most companies either already works with foreign partners or aspires to do so. And therefore language skills for a highly paid specialist are a must have.
So, undoubtedly in Switzerland, English is an important Lingua franca, and having the above mentioned skills can lead to faster progression on a career ladder. But English is merely a resource. What also matters is the ability to negotiate in potentially tense situations, ability to use industry-specific lingo, ability to communicate with persons whose English language proficiency was not very high, and so forth.
By Dariia Vinnikova
Sources:
Mair, C. (2019). English in the German-speaking world: An inevitable presence. English in the German-speaking world, 13-30.
Cambridge report (2016).  https://www.cambridgeenglish.org/images/english-at-work-full-report.pdf