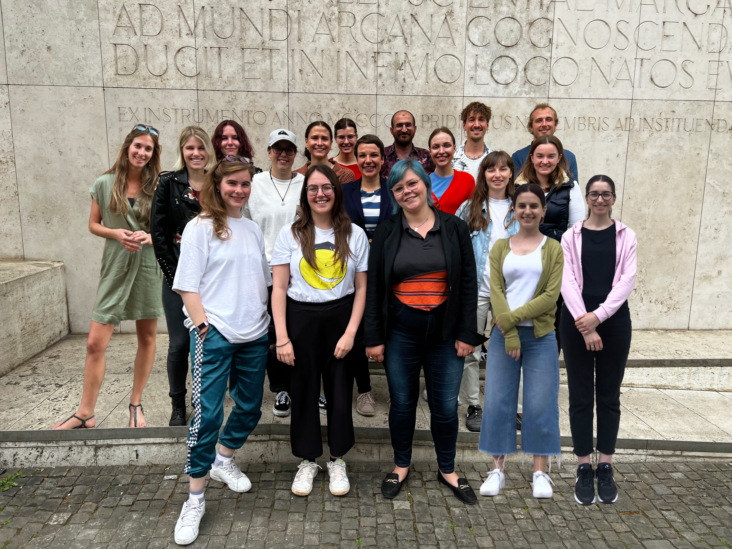 Pictured:  The students of the seminar
In our seminar, we explored English in the workplace from a theoretical and a practical perspective. This means that, on the one hand, we read studies about the role and use of English in Swiss workplaces and workplaces around the world. We discussed them in class and gained an understanding for professional communication and some of the themes connected with it: For example, English as Business Lingua Franca (BELF), discrimination at the workplace, the relationship of different languages at the workplace, the role of gender and hierarchy in workplace communication, and so forth. With this background, we, on the other hand, also thought about our own experiences with workplace communication. We started our own small research projects where we explored English in the workplace and workplace communication in a practical way. The result of these projects and our seminar is the blog you are reading now.
The students participating were Toni Mariah Bader, Thea Breitenmoser, Dogan Coban, Nicolas Ivan Felber, Michelle Findlay, Leonie Hormes, Isabella Margjini, Nina Merkofer, Isabella Mey, Jenna Mostyn, Clarissa Paolone, Tristan Scheiblechner, Lea Vaterlaus, Dariia Vinnikova and Daniela Xhixha, and the seminar instructor was Dr. Carolin Debray.
The editorial team responsible for the blog are: Aisha Giger, Cristina Hoffmann, Stephanie Naujoks, Simona Roth and Kim Noemi Brägger.